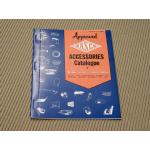 NASCO literature

Restored NASCO print media. Lots of rare and valuable information on our favourite Holden subject NASCO.
Many, many hours go into restoring these items. All this after collecting the rarest of the rare NASCO literature.
From single sheets to complete catalogs. There should be something for the avid NASCO collector.

Open the NASCO pages