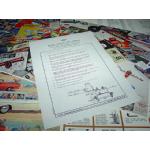 Genuine Holden NASCO fitment/description instruction sheets.

Many, many hundreds of NASCO accessories part numbers were produced and most came with the very own instructions.
early
holdens
.com a large selection of these fully restored with loving precision. If the one your after is not listed here, please give us a yell.