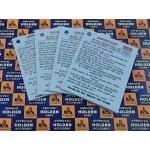 GMH Owners Card
IMPORTANT
notice to new owners.
Dash Swingers: These were attached to the headlight switch when you purchased your new Holden from the dealer.
Reproduction cards faithfully reproduced to exacting standards.
Currently we offer cards for FX, FJ, FE, FC, FB, EK (early), EK (intermediate), EK (late), EJ, EH, HD, HR, HK and HQ (MPH & KPH)
There are those who know the correct owners card for your model and those who don't!


Click to view